Rosie was bred by us. She was produced from European Import Jnr. CH. BOC's Rammstein of Maddock x SWK's Roxanne. Rosie is very agile, she loves to run, light on her feet, and has plenty of stamina. She has a quiet & gentle nature and an excellent temperament. Rosie is a very loyal, affectionate, and loves playing with our kids. We have bred some top quality healthy pups from Rosie.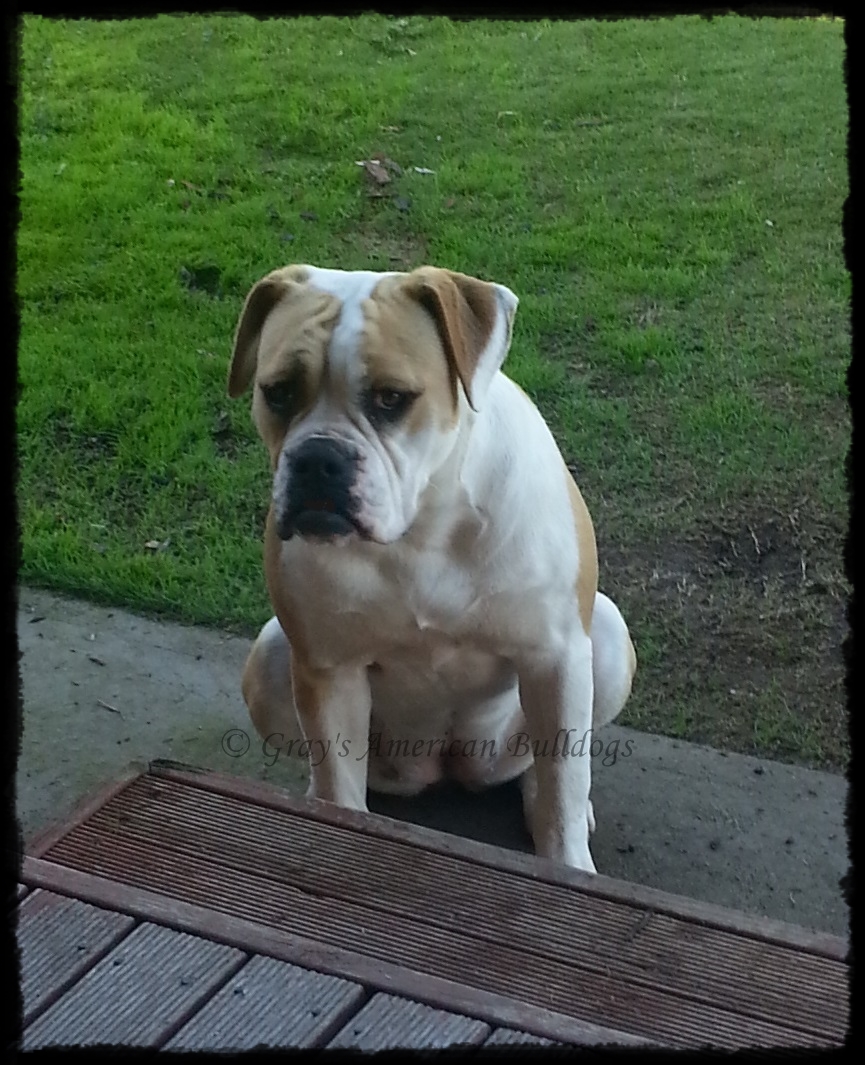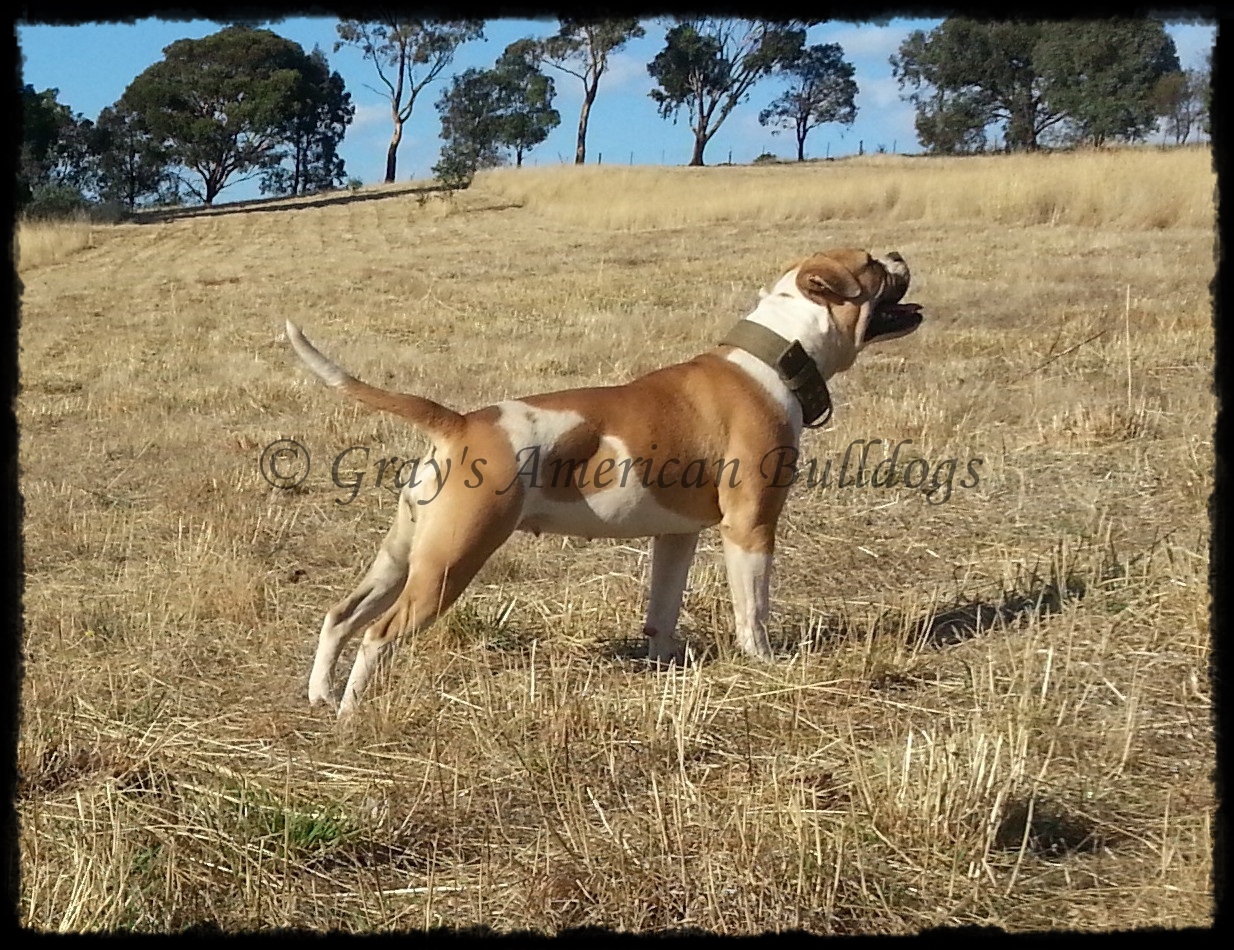 Hip Dysplasia: AVA 7 (3/4)
Elbow Dysplasia: 0/1
NCL: CLEAR

Ichthyosis: CLEAR

OFA Cardiac: Normal
OFA Patellas: Normal
DNA Profiled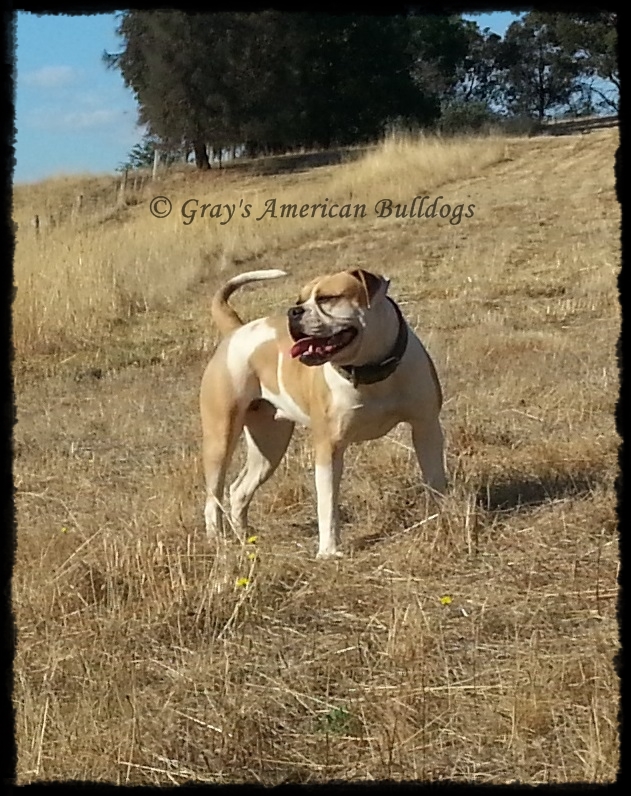 SIRE: EUROPEAN Jnr. CH. BOC's Rammstien of Maddock
Rosie's sire is European Import Jnr. CH. BOC's Rammstien of Maddock is a Best in Show winner and Multi Show winner in the Netherlands and abroad. He is outstanding show dog with good conformation and a big bully head. Rammstein is very muscular weighing 45kg, stands at 25 inches, with a great temperament.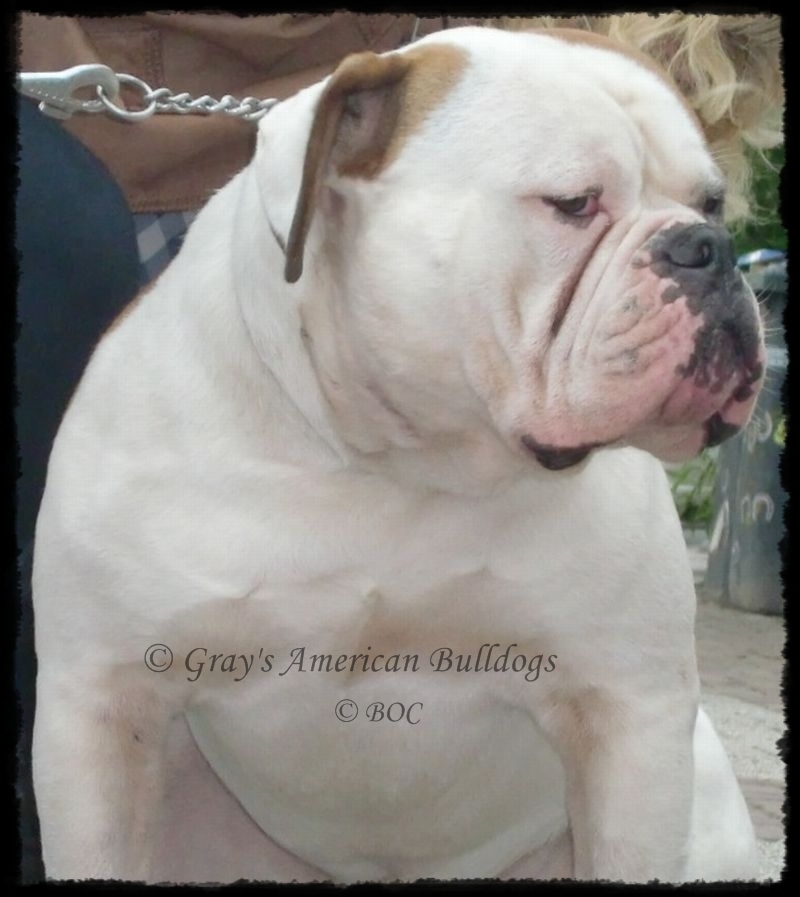 Both parents of Zoe are Hip & Elbow Dysplasia tested, NCL & ICH CLEAR, and DNA profiled.
DAM: SWK's Roxanne
Rosie's dam is SWK's Roxanne
who is an "Old Southern White" Johnson Type American Bulldog. Roxy is a big girl, heavy boned, and has a solid build. Roxy
has one of the best temperaments that we have encountered as she is extremely loyal, loving, gentle, and has a protective nature.
She weighs 40kg and stands at 23 inches tall.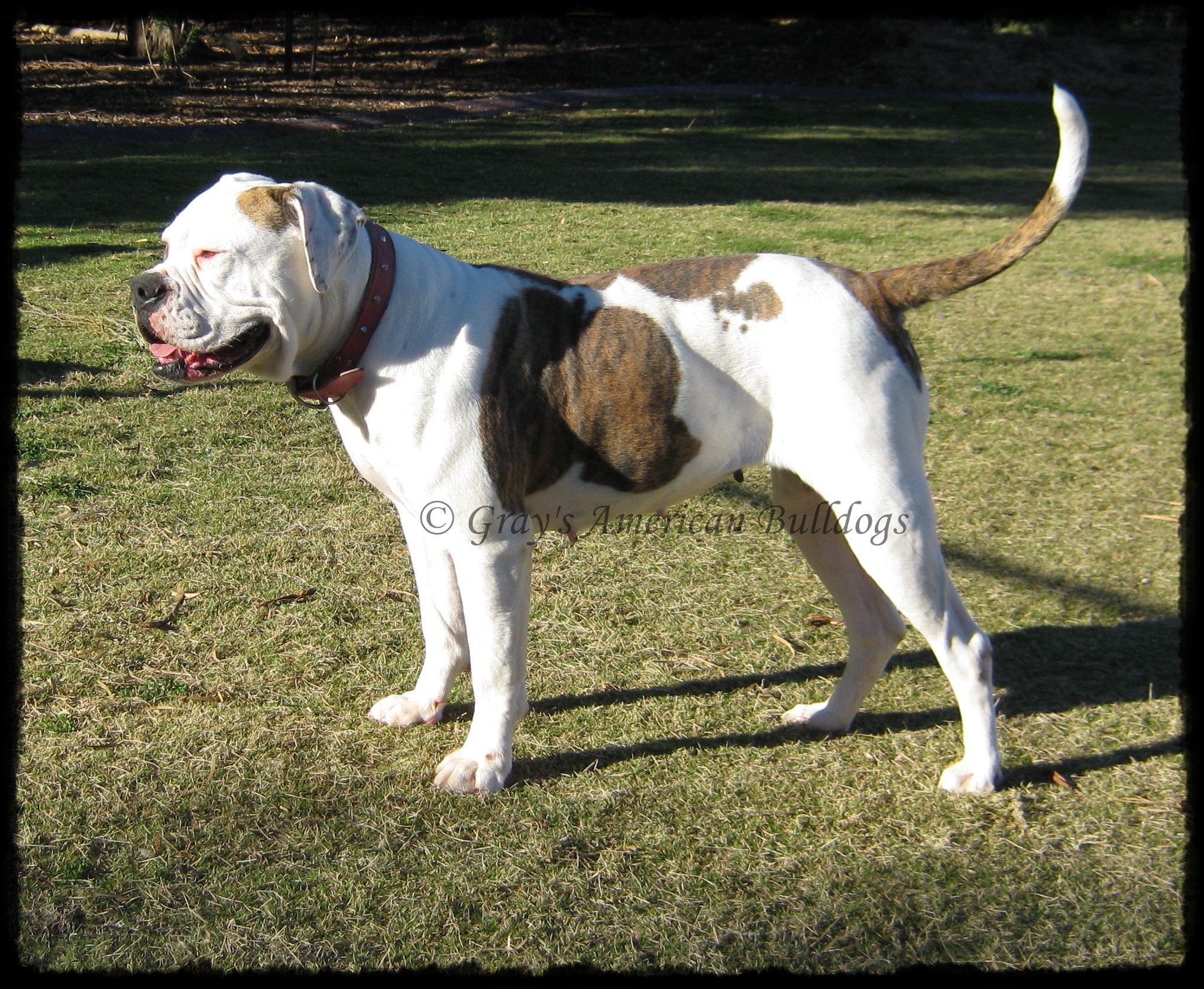 TITLE DESCRIPTIONS BELOW

BST - Breed Suitability Test
This test is an evaluation of a dog's temperament, conformation, character, and working ability.
Only qualified dogs are eligible and pre-requisites must be met.
This test is modeled on the Breed Standard and it is designed to select dogs that are worthy of being bred
CAL1 - Certificate of Aptitude to Work
In order to be awarded the dogs must be subjected, with favourable outcome, to the following 3 exercises; Behaviour towards friendly strangers, Indifference to firearms noise, Defense of the handler.

CD1 - Companion Dog

In order to be awarded the dog must score at least 170 / 200 points, must pass all exercises in the test, and must do so under 3 separate judges at 3 separate shows. The 6 exercises in obedience are; Heel on Leash & Figure 8, Stand for Examination, Heel Free, Recall, Long Sit, Long Down.

CGC - Canine Good Citizen
In order to be awarded the dog must be subjected, with favourable outcome, to the following 10 exercises; Accepting a Friendly Stranger, Sitting Politely for Petting, Appearance & Grooming, Out For a Walk (Loose Lead), Walking Through a Crowd, Sit & Down on Command & Staying In Place, Coming When Called, Reaction to Another Dog, Reaction to Distraction, Supervised Separation.

DHT - Defense of Handler Temperament
This title allows your dog to participate in the Triathlon & Pentathlon for up-to six months, after the allowed time frame you MUST obtain a GDT in order to continue to compete.

GDT - Guard Dog Temperament
This title allows your dog to participate in the Triathlon or Pentathlon if you do not already have a recognized sport protection title.

IDT3 - Irondog Triathlon
This title means your dog has completed an Irondog Triathlon.

IDT5 - Irondog Pentathlon
This title means your dog has completed an Irondog Pentathlon.

Irondog Ranking System
Your dog is considered a RANKED Irondog if it finishes first, second or third in a trial consisting of FIVE or more dogs (5 dogs MUST complete the ENTIRE Triathlon / Pentathlon), The Ranking system is designed to help make breed selections. RANKED ID3 and RANKED ID5 are different titles than the non-ranked ID3 & ID5.
IWPA - Medalist
International Weight Pull Association Championships are held at the end of the pull season and located in USA or Canada. During the pull season IWPA members compete their dogs within their region for points earned based on placings at a pull. Within their region points are added together at the end of the season to determine the placings for regional medals - gold, silver, bronze. These regional medalists, along with 4th and 5th place dogs are invited to attend the International Championships to compete with other regional medalists to win the title "International Champion".

APA - Medalist
American Pulling Association is an organisation that holds weight pull competitions across USA. Other weight pull organisations in the USA include United Kennel Club (UKC) and International Weight Pull Association (IWPA). Although the rules differ from group to group, the general idea is the same in each venue. A dog, wearing a specially-designed harness, pulls a weighted vehicle a distance of 16 feet in 60 secs or less. Dogs earn qualifying scores, champion points, and other awards based on the percentage of their body weight that they pull.
UWPCHX
United Weight Pull Champion Excellent - UKC weight pull title

PH - Police Dog

This means your dog is qualified and certified for active service in the Police Force, Military, Customs etc. The PH 1 is so difficult and the exercises are so demanding that a dog is typically 3 1/2 years or older before entered into PH 1 examination.
SCH I II III - Schutzhund

Training tests that originated in Germany, are geared to identify the suitability of dogs to work in stamina & endurance, agility, temperament & nerves, courage, intelligence, handler loyalty, and desire to work.
There are multiple levels of titles in obedience, tracking, and protection.

Pedigree for GRAY's Whole Lotta Rosie



Sire
Euro. JR. CH. BOC's
Rammstein of MADDOCK


ED: Free




HD: B


NCL: Free
Ichthyosis: Free

Sire
MADDOCK's Golan of BOC

Sire
BOC's Tupac of BULLFORCE
ED: Free
HD: B / OFA Fair

Sire
OSB's Johnny Blaze


Dam
BULLFORCE's Easy of SNUG

Dam
BOC's Zora of FREESTYLE
ED: Free
HD: B / OFA Fair

Sire


FREESTYLE's Bushwick Red Rum



Dam


FREESTYLE's Sassy Stronge



Dam
MADDOCK's Sonia of BACKYARD

Sire
MEGABULL's Fifty of FASTLANE


HD: Penn 0.30, 0.30



Sire
BAYSIDE's DAILEY's King Caleb


Dam
FASTLANE's Foxy Ruby




Dam
BACKYARD's Fancy of FASTLANE



Sire
FASTLANE's Heman of KENNEDY
Dam
FASTLANE's Daisy Dazzle


Dam
SWK's Roxanne


ED: 0/0




HD: AVA 9 (5/4)


NCL: Clear
Ichthyosis: Clear
OFA Cardiac: Normal
OFA Patellas: Normal

Sire


SWK's Leroy Brown



Sire


FISHER's Rocky



Sire
CAUCHI's Lucky


Dam
CAUCHI's Pearl


Dam


PLG's Cyclone



Sire
GLADIATOR's Samson


Dam
PLG's Kaya


Dam


SWK's Marley



Sire


SWK's General Jackson



Sire
JACKSON's Muscles


Dam
GLADIATOR's Roxy


Dam


FBK's Mary



Sire
SERGEANT's Munster


Dam


CH FBK's Rose of Alabama